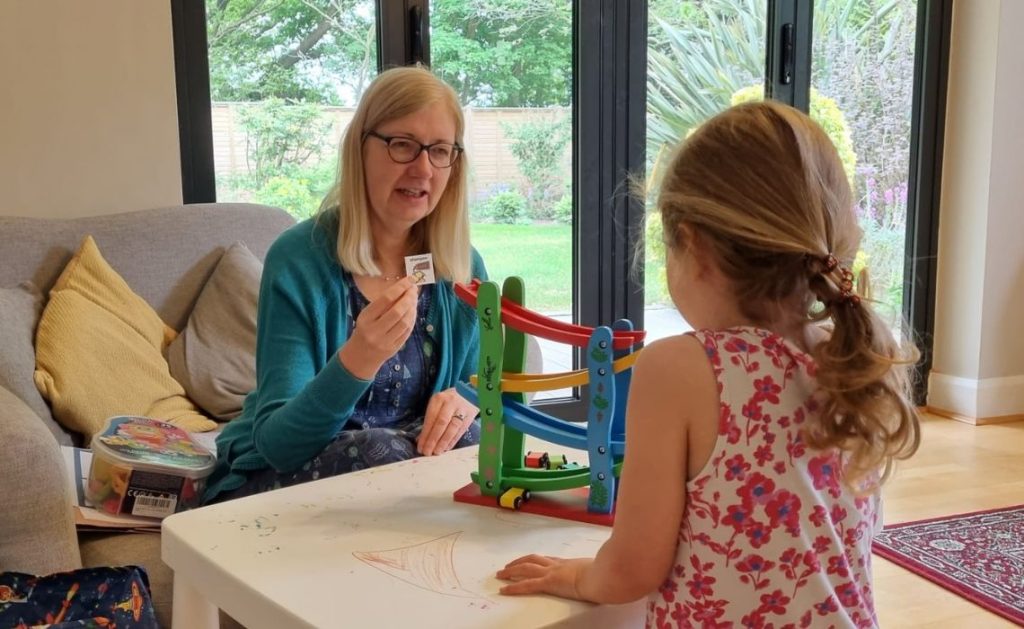 Anna Koppenhout
Speech and language therapist
I was first drawn to become a speech and language therapist in order to make a difference to children with communication difficulties. Over the last 35 years that vision has remained at the heart of my practice.
I have been privileged to share the struggles and celebrate the successes for many children with diverse communication needs and their families along their different journeys. I learn something new from every child and still get excited as they progress.
I established Apple Tree SLT in 2001 alongside my work in the NHS. I worked for over 25 fascinating years in the NHS in a wide range of settings growing in knowledge and experience of how to support children with communication difficulties. Although I remain an advocate for the NHS, moving to work full time in independent practice allowed me the freedom to provide the more tailored support for children with communication difficulties that I felt they needed.
Early on in my career, I realised that early intervention involving the adults in a child's life was key to encouraging a child's communication. I became interested in supporting parents to encourage their child's communication through interaction and play. I am a registered Hanen therapist (https://www.hanen.org/) and have trained in a range of other approaches to support adult child interaction such as intensive interaction (https://www.intensiveinteraction.org/) and parent coaching. I have completed a stage one systemic family therapy training and use a positive solution focused approach in my work with children and families.
I am fortunate to have worked in several London teaching hospitals including at Guys/ St Thomas Hospital as the specialist speech and language therapist in cleft palate and continue to draw on this interesting experience in my work with children with speech sound difficulties. I later worked within multi-disciplinary child development teams and social communication clinics at Royal Surrey County and then Kingston Hospital involving me in the diagnosis and intervention for children with autism spectrum disorder. Expertise in autism remains a key part of my work and I am trained and experienced in a wide range of techniques for supporting children with social communication difficulties.
Having completed specialist training in selective mutism I have developed a particular interest in supporting children with selective mutism and has been exciting to see these reluctant speakers grow in confidence with their communication.
I am proud to have obtained my qualification as Ayres Sensory Integration Practioner (https://www.sensoryintegrationeducation.com/) in 2020 and continue to weave sensory integration ideas into clinical practice with all my clients.
There is always something new to learn about children's communication and I enjoy keeping abreast of recent developments in clinical practice and theory and exchanging ideas with other professionals in training and support groups. It is fascinating to learn a new technique and then share it with the families to support a child's speech and language.
Anna Koppenhout is a registered member of the following associations:
Association of Speech and Language Therapists in Independent Practice (ASLTIP)
Registered Hanen therapist (www.hanen.org).
Ayres sensory integration practitioner
I participate in regular clinical supervision and am actively involved in ASLTIP coordinating a local support group of SLT's in independent practice.